Tutorials
/ Use ArcGIS to Determine Fire Affected Areas in NRT Using MODIS and VIIRS
This tutorial shows how using ArcGIS Pro, MODIS Bands 7-2-1 and VIIRS M11-I2-I1 Corrected Reflectance Imagery can be viewed in combination with the active fire data to identify fire-affected areas that are characterized by deposits of charcoal and ash, removal of vegetation and/or alteration of vegetation structure.
The standard MODIS burned area products [MCD64A1] are not available in near real-time.
Find out more about the MODIS burned area products at: http://modis-fire.umd.edu/ba.html.

Southern California on Aug 26th 2013
Limitations: This "recipe" was put together at the request of users who wanted to do a quick assessment of burned area; it is meant for timely applications that require a quick assessment of burned area. The method relies on visual interpretation and does not provide a robust or systematic means of determining burned areas.
Please note this method does not work in all areas and will not work if the area affected by fire is not big enough, or hot enough to burn and remove the vegetation or alter the vegetation structure. Under the right conditions it can provide a quick assessment of area burned as this tutorial shows.
Step 1 - Add ArcGIS Server
Launch ArcGIS Pro
Create New Map
Add ArcGIS Server
For Server URL enter http://modis.arcgis.com/arcgis/rest/services/MODIS/ImageServer
Click OK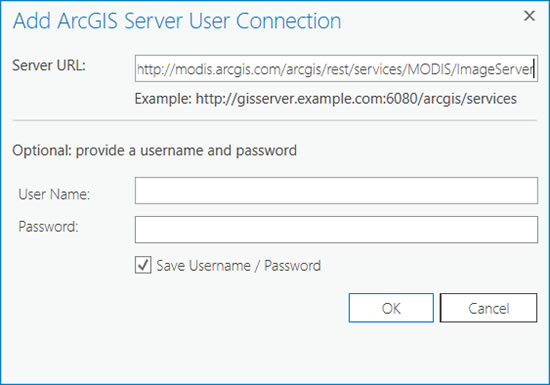 Step 2 - Find MODIS / VIIRS Data
In your Catalog window expand 'Servers'
Expand 'arcgis on modis.arcgis ...'
For MODIS: Drag MODIS into your Map (Drawing Order). Do not expand MODIS
For VIIRS: Drag VIIRS into your Map
Step 3 -Set MODIS / VIIRS Layer Properties
Right+click on the MODIS or VIIRS layer
Select 'Properties'
Select Definition Query tab
Click on Add Clause
Set 'Field' to Dataset_ID
Click on 'Values' drop-down menu
Click on button 'More'
This will read the dataset - it will take a brief moment
Once the dataset is read, the dropdown will show a list of available MODIS/VIIRS layers
For MODIS: Select MODIS_Terra_CorrectedReflectance_Bands721 option
For VIIRS: Select VIIRS SNPP M11-I2-I1 option
Click 'Add'
As a check, click 'SQL' button in the top
Your query should look like this
For MODIS: Dataset_ID = 'MODIS_Terra_CorrectedReflectance_Bands721'
For VIIRS: Dataset_ID = 'VIIRS SNPP M11-I2-I1'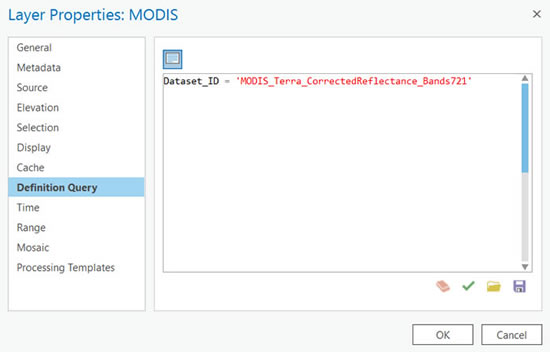 Select Time tab on the left side
Set Time Extent from 8/16/2013 to 8/26/2013
* VIIRS data through ArcGIS server only extends to 12/01/2015
Click OK to close the menu
Step 4 - Request FIRMS MODIS / VIIRS data
Use Archive Download to request fire data
See settings below
For VIIRS: select 'Fire data source' VIIRS or download both as MODIS C6 & VIIRS
Once your request is processed you will be notified by email and you can download the data onto your computer
Step 5 - Add FIRMS Data
In the 'Drawing Order' right+click on 'Map'
Select 'Add Data'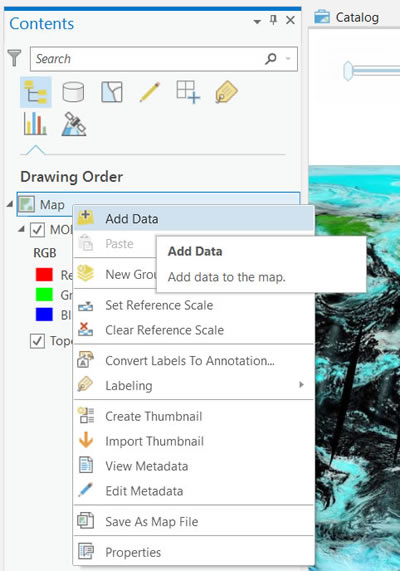 Locate the folder with downloaded and unzipped firms .shp data
Click OK
Navigate to southern California. The approximate coordinates are 37°50'N and 120°00'W
Your map should look similar to this
* Note - the color of fires may be different as ArcGIS assigns it at random.
Step 6 - Set Custom Date
Right+click on 'fire_archive_...' layer
Select 'Properties'
Select Definition Query tab
Set 'Field' to ACQ_DATE
Choose the date of interest from the dropdown menu
This example uses 08/26/2013
Click 'Add'
Click OK at the bottom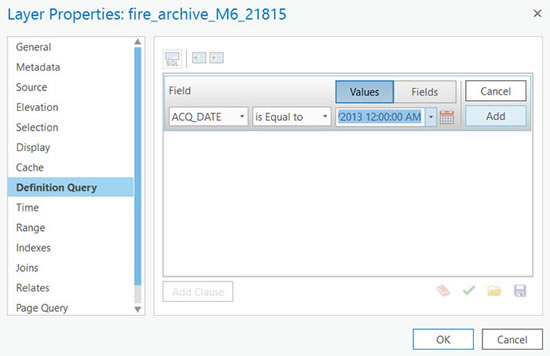 Use the time slider on the map to change the MODIS Bands 7-2-1 Imagery dates to view changes
Step 7 - Final Image
Time slider and fire data are both set to 08/26/2016
Zoomed to southern California. Approximate coordinates are 37°50'N and 120°00'W