Tutorials
/ Ingest FIRMS WMS into ArcGIS and Customize the Symbology
This tutorial demonstrates how to ingest FIRMS fire data into ArcGIS Pro and custom modify symbols, colors and size.
Step 1 - Add WMS Service Connection
Launch ArcGIS Pro.
Create New Map
Add New WMS Server Connection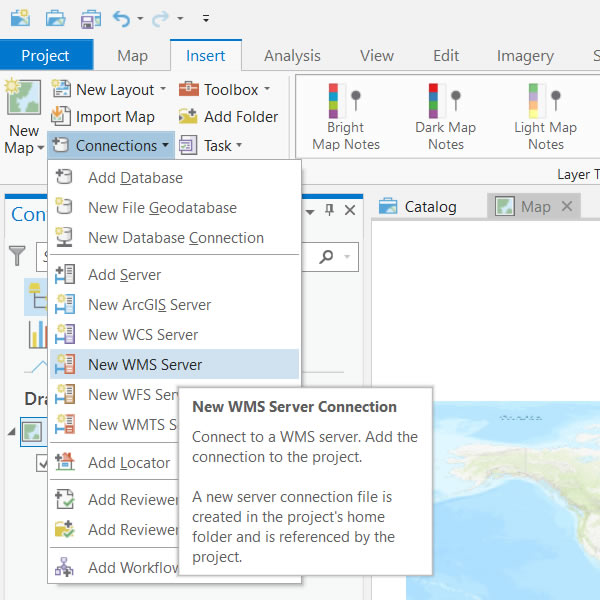 Step 2 - Establish Connection
Step 3 - View FIRMS Layers
If connection was successfull there will be a list of supported FIRMS layers.
Open the tree structure under Servers → NASA FIRMS WMS Service on firms.modaps...
Find the layer of interest and drag into your Map Project (ex. fires_viirs_24)
These layers require additional setting:
fires_modis, fires_terra, fires_aqua, fires_viirs, fires_viirs_snpp, fires_viirs_noaa20
See Having problems ... section.
Step 4 - Draw FIRMS Layer
Drag the layer of interest into the desired ArcPro map window.
The layer will be added to your window and draw.
Position the layer accordingly in the draw order so it is visible with other layers.
Step 5 - Open Layer Property Window
Right click on the FIRMS Layer.
Click on Properties.
Step 6 - Set Layer Parameters
Select Display option
Under Custom parameters add:
symbols → triangle
Use Add row to add the other values
colors → 240+100+20
size → 10
Click OK
Step 7 - View Results
The map will display custom symbology
Having problems ...
Check you have included '/' at the end of your WMS url (see step 2)
Try opening layer such as fires_viirs_24
Following layers require additional setting (see image below) as they are date/time dependent:
fires_modis, fires_terra, fires_aqua, fires_viirs, fires_viirs_snpp, fires_viirs_noaa20