Satellite Imagery
NASA Worldview Snapshots
NASA Worldview Snapshots interface generates a true color or false color satellite imagery subset at a spatial resolution of 250 meters. Subsets can be generated from the data record of daily corrected reflectance satellite imagery for listed satellite/sensor assets.
Subsets are dynamically generated with the NASA Worldview Snapshots application using source imagery provided by the Global Imagery Browse Services (GIBS).

Note: Imagery for the current date is available approximately 3 hours post acquisition.
NASA Worldview
NASA Worldview is a fully featured, interactive interface for browsing full-resolution imagery and downloading the underlying data via Earthdata Search.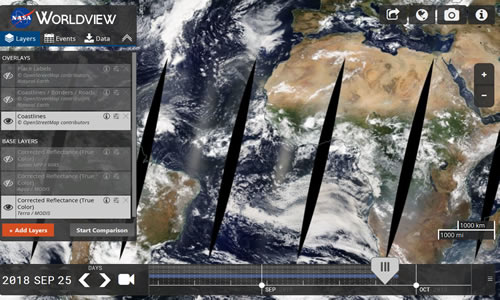 https://worldview.earthdata.nasa.gov/